« Back to Composer Index
Aaron Copland
Info
11/14/1900
New York City, New York
12/02/1990
Sleepy Hollow, New York
USA
20th Century
Orchestral, Film/Television Music, Symphony, Ballet, Piano

---
Biography
Born in November 14, 1900, in Brooklyn, New York, Copland was the son of two Lithuanian immigrants, Harris and Sarah Copland. He got a late start compared to many musicians , when at age 12 he learned to play the piano from his sister. After a year and a half of teaching himself he finally branched out to take formal lessons. By 1921 he had received a scholarship to study at the music school for Americans at Fontainbleau near Paris. There Copland would study under one of the greatest composition teachers of the 20th Century, Nadia Boulanger. Boulanger moved Copland from writing short piano pieces to writing symphonies and ballets.
Perhaps one of his best works was Appalachian Spring, which won the Pulitzer Prize in 1945. Copland was commissioned to write a ballet by Martha Graham. He started writing it in 1943 and finished the following year while teaching at Harvard. The piece was given the name Appalachian Spring only two days before its' premier by Martha Graham. Appalachian Spring boasted a sound every bit as American as his previous works, Billy the Kid, and Quiet City. With choreography by Martha Graham the ballet won immediate success and acclaim when it debuted in Washington, D.C., October 30, 1944. Copland turned to folk music for material in this piece. The Shaker song,Simple Gifts, was used in one section of the song. All of the pieces in Appalachian Spring reflect folk songs Appalachia's, but only Simple Gifts is a quoted song. This is ironic because the play is set in Pennsylvania where there is a marriage to take place between the two leading characters, but there were no Shakers in Pennsylvania and as a Shaker you were not allowed to marry.

After writing ballets, Copland worked for the Cincinnati symphony when World War II began and wrote a patriotic piece, A Lincoln Portrait. During Aaron's composing career he wrote eight pieces for films-documentaries or versions of plays. When Aaron Copland died on December 2, 1990 he was arguably the most famous American composer.
---
Main Works
Orchestra:
Concerto for Piano
Fanfare for the Common Man
Symphony #3
A Linclon Portrait
Ballet:
Appalachian spring
Rodeo
El Salon Mexico
Billy the Kid
Quiet City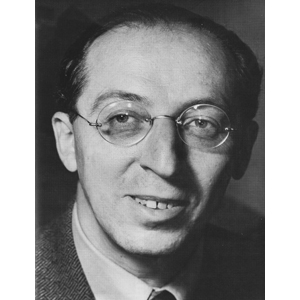 Share
Tweet
---
---
Last Updated: 2013-02-07 19:43:21