« Back to Composer Index
George Gershwin
Info
09/26/1898
New York City, New York
07/11/1937
Los Angeles, California
USA
20th Century
Orchestral, Popular Music, Musical Theatre

---
Biography
George Gershwin was born Jacob Gershowitz into a family of Russian immigrants in Brooklyn, New York on September 26, 1898. George was interested in music at an early age and always knew he wanted a career in music. His mother helped set him down his musical path by purchasing a piano when George was twelve. At that age began to take piano lessons, mostly because his friend was playing the violin so he wanted to play and learn an instrument as well. That was the beginning of a great career that was only encouraged by studying with Charles Hambizter, in 1912 when George was fourteen. His teachings opened George's eyes to the world of classical music and the famous musicians like Debussy, and Schoenberg. Hambizter also introduced Gershwin to classical piano literature where he learned about the great virtuoso pianist Liszt.
At the age of fifteen George Gershwin dropped out of school and then pursued music full time. In 1918 he composed and wrote his first song Swanee as a "Tin Pan Alley" composer. From that first song his fame grew and his music became more popular. He continued to write more music and worked with his brother Ira, who wrote the lyrics to go with George's music. Much of his music was written for theater, where he had many hits including the political satire Of Thee I Sing (1931), the first musical comedy to win a Pulitzer Prize. He also wrote jazz songs, such as I Got Rhythm and Somebody to Watch Over Me. One of his most famous pieces, Rhapsody in Blue was written for the piano, a jazz band, along with an orchestra. George Gershwin was one of the first composers to combine these different areas of music and infuse them together to make a classical/ jazz sound. Throughout his career he continued with the combination of the piano and orchestra to make wonderful music like An American in Paris and The Second Rhapsody. One of his most famous operas, considered a masterpiece ahead of its time, is Porgy and Bess, is an American Folk Opera based on the novel and play by Dubose and Dorothy Heyward.
Throughout his career George Gershwin wrote many great compositions and his work is still quite popular today. When he fell in a coma in 1937, the White House sent two of its destroyers to get the best brain surgeon in the country, who was vacationing in the Chesapeake Bay, to California in order to try and help Gershwin. Unfortunately, the effort would go unrewarded. The coma ended George Gershwin's life just short of his 39th birthday on July 11, 1937 in Hollywood, California.
---
Main Works
Musical Theatre:
Of Thee I Sing (1931)
Popular Music:
Somebody to Watch Over Me (1926)
I Got Rhythm (1930)
Orchestral Music:
Rhapsody In Blue (1924)
Piano Concerto in F (1925)
American in Paris (1928)
Cuban Overture (1932)
Opera:
Porgy and Bess (1935)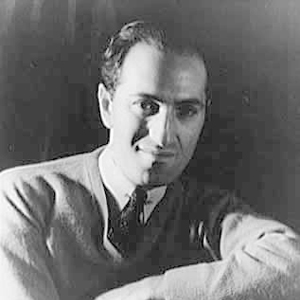 Share
Tweet
---
---
Last Updated: 2013-02-08 19:39:15