« Back to Composer Index
Alfred Newman
Info
03/17/1901
New Haven, Connecticut
02/17/1970
Hollywood, California
USA
20th Century
Film/Television Music

---
Biography
Alfred Newman was the eldest of 10 children in a poor family. His family recognized his interest in music at an early age and he walked 10 miles every day to practice on a piano belonging to a friend of his mother's. Arguably a child prodigy, he favored works by Ludvig van Beethoven and Frédéric Chopin. He earned money from recitals and also played in theatres and restaurants before getting a job as an accompanist to Grace La Rue in her vaudeville act billed as "the Marvelous Boy Pianist." By age 20, Newman became friends with George Gershwin leading to his conducting some ofGeorge and Ira Gershwin's stage musicals including Treasure Girl and Funny Face. He also conducted many other stage works including Rogers & Hart's Spring is Here and Heads Up, andJerome Kern's Criss Cross. He also contributed occasional songs to these musicals.
Stage musicals led to film musicals when he traveled to Hollywood with Irving Berlin as a conductor in 1930. Known as "the Boy Conductor" and "the Youngest Conductor in the United States," Newman already had ten years worth of experience conducting symphonies and Broadway orchestras when he started in Hollywood. He worked for United Artists and Sam Goldwin before he was appointed as Music Director for Fox studios where he stayed for nearly twenty years. Over this period he contributed an enormous amount to film music as a composer, arranger, musical director and conductor. Newman was critical in hiring young composers including David Raksin, Bernard Herrmann and John Williams. He also employed two of his younger brothers, Emil Newman andLionel Newman. Two of Alfred's sons David Newman and Thomas Newman and his nephew Randy Newman are also established and accomplished film composers as well. Alfred also wrote the 20th Century Fox Fanfare which is heard at the start of all the studio's movies.
Musically, Alfred Newman is often credited with the creation of the Hollywood string sound, and for adding the Broadway sound to the motion picture. He also responsible for the Newman system, a means of synchronizing the performance and recording of a movie score with the film itself. The system uses a special print of the film that is played for the conductor's reference. This print is specially marked with punches and streamers. Punches are tiny marks in the film (for two of every ten frames) that provide a standard beat to help the conductor keep in synch with the tempo. To synchronize music and action, the conductor then uses streamers. These are horizontal lines which move across the screen at a regular pace. This system was created by Newman while he was the Musical Director at Fox, and is still used today.
Newman's soundtrack, Airport (1970), is a clear departure from his typical style of full orchestral music to easy jazz. He was nominated for 45 Academy awards and won the award nine times. His Oscars included, Alexander's Ragtime Band (1938), Tin Pan Alley (1940), The Song of Bernadette (1943), Mother Wore Tights (1947), With a Song in My Heart (1952), Call Me Madam(1953), Love Is a Many-Splendored Thing (1955), The King and I (1956), and Camelot (1967). He died from emphysema in 1970.
---
Main Works
Film Scores:
Street Scene (1931)
The Prisoner of Zenda (1937 & 1952)
Alexander's Ragtime Band (1938) - Oscar Winner
Beau Geste (1939)
The Hunchback of Notre Dame (1939)
Gunga Din (1939)
Wuthering Heights (1939)
Drums Along the Mohawk (1939)
Tin Pan Alley (1940) - Oscar Winner
The Mark of Zorro - 1940 & 1952 (and 1974 TV theme)
How Green Was My Valley (1941)
The Song of Bernadette (1943) - Oscar Winner
Mother Wore Tights (1947) - Oscar Winner
Cry of the City (1948)All About Eve (1950)
With a Song in My Heart (1952) - Oscar Winner
How to Marry a Millionaire (1953)
The Robe (1953)
The Seven Year Itch (1955)
Love Is a Many-Splendored Thing (1955) - Oscar Winner
Anastasia (1956)
The Diary of Anne Frank (1959)
How the West Was Won (1962)
The Greatest Story ever Told (1965)
Airport (1970)
Conductor/Musical Director:
City Lights (1931) - Musical Director
The Grapes of Wrath (1940) - Musical Director
Miracle on 34th Street (1947) - Musical Director
Call Me Madam (1953) - Music Supervisor & Musical Director - Oscar Winner
There's No Business Like Show Business (1954) - Conductor & Music Supervisor
The King and I (1956) - Conductor & Music Supervisor - Oscar Winner
Carousel (1956) - Conductor & Music Supervisor
South Pacific (1958) - Music Supervisor & Orchestrator
Flower Drum Song (1961) - Conductor & Music Supervisor
State Fair (1962) - Musical Director
Camelot (1967) - Conductor & Music Supervisor - Oscar Winner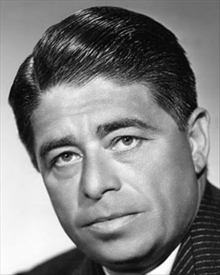 Share
Tweet
---
---
Last Updated: 2013-02-11 23:17:42