« Back to Composer Index
Ludwig van Beethoven
Info
12/17/1770
Bonn, Germany
03/26/1827
Vienna, Austria
Germany
Classical
Vocal, Orchestral, Chamber, Opera, Concerto, Sonata, Choral, Piano, Keyboard, Solo Instrumental, Religious

---
Biography
Beethoven's father, Johannes, was a court Tenor and pianist and was the first person to instruct young Ludwig in music. He taught him the piano, violin, and also possibly the viola. He went to elementary school in the Neugasse until his first public performance at the age of 7, where his father, seeing the latent talent that his son possessed, sought out for him other teachers, more suited for his talent. The most notable of his teacher was Christian Gottlob Neefe, who was responsible for introducing young Ludwig to the music of Johann Sebastian Bach. By 1782, Beethoven was already assisting Christian Gottlob Neefe as deputy court organist in Bonn, and it was in the same year that his first work, a set of variations on a march theme by Dressler, was published. He then played viola in the Bonn symphony until he went to Vienna in 1787, with the idea of studying with Mozart. His plan for studying with Mozart was cut short by the sudden death of his mother: he was recalled back to Bonn to be at her bedside when she finally passed on. He returned to Vienna in 1792, to study with Haydn (Mozart having died in 1791).
For the rest of his life he remained in Vienna, where he wrote his most remembered, and popular pieces including Symphonies 4, 5 and 9. He became well known at first, for his piano playing, having attained the level of virtuoso, and became well known among the aristocracy for his ability to improvise. By 1802, he was to have written 32 of his piano sonatas, and his first 2 symphonies, 18 string quartets, and his first 3 piano concertos. Sadly though, it was around this time, that the deafness, that he had noticed coming on 5-6 years previously, began to hit him even harder. This was a time of great despair for him, as is seen in the letters he wrote to his brothers in the "
Heiligenstadt Testament
", which were never sent, but were found among his possessions along with the "Immortal Beloved " letters, after his death. During this middle period of his life, he wrote symphonies 3-8,piano concertos 4 & 5, and his violin concerto, to name a few.

His involvement in the custody dispute of his nephew Karl, also slowed his musical output, and his production of music until around 1816 was almost stagnant. But the years following 1816 are arguably his most productive, with his 9th symphony, his final 7 piano sonatas, and a set of string quartets, which unlike their predecessors., have 6 and 7 movements, instead of the usual 4. He was able to complete these masterful creations, including the extended finale in the 9th symphony, Ode to Joy, while being almost completely deaf. There is a story that circulates which says that at the finish of conduction the 9th, he just stood there facing the symphony, and not knowing that the crowd was applauding, because of his deafness, and his ability to hear the applause. He had to be turned around, to see the effect of his musical masterpiece upon the crowd. He continued to compose late into his life, until his death. He was buried with honors in Vienna, and his funeral was said to have been attended by more then 10,000 people, which shows the true following that his music created among the people who were blessed with being able to hear, enjoy and experience it.
---
Main Works
ORCHESTRAL MUSIC

Symphonies
Opus 21: Symphony No. 1 in C major (composed 1799–1800, premièred 1800)
Opus 36: Symphony No. 2 in D major (composed 1801–02, premièred 1803)
Opus 55: Symphony No. 3 in E-flat major ("Eroica") (composed 1803/04, premièred (1805)
Opus 60: Symphony No. 4 in B-flat major (composed 1806, premièred 1807)
Opus 67: Symphony No. 5 in C minor (composed 1804–08, premièred 1808)
Opus 68: Symphony No. 6 in F major ("Pastoral") (composed 1804–08, premièred 1808)
Opus 92: Symphony No. 7 in A major (composed 1811–12, premièred 1813)
Opus 93: Symphony No. 8 in F major (composed 1812, premièred 1814)
Opus 125: Symphony No. 9 in D minor ("Choral") (composed 1817–24, premièred 1824)

Concertos

For piano
Opus 19: Piano Concerto No. 2 in B-flat major (first two movements composed 1787–1789, finale composed in 1795)
Opus 15: Piano Concerto No. 1 in C major (composed 1796–97)
Opus 37: Piano Concerto No. 3 in C minor (composed 1800–01)
Opus 58: Piano Concerto No. 4 in G major (composed 1805–06)
Opus 61a: Beethoven's arrangement for piano of Opus 61 Violin Concerto
Opus 73: Piano Concerto No. 5 in E-flat major ("Emperor") (composed 1809–10)

For violin, cello, and piano
Opus 56: Triple Concerto for violin, cello, and piano in C major (1803)

For Violin
Opus 61: Violin Concerto in D major (1806)

Other works for soloist and orchestra
Opus 40: Romance for Violin and Orchestra No. 1 in G major (1802)
Opus 50: Romance for Violin and Orchestra No. 2 in F major (1798)
Opus 80: "Choral Fantasy" (Fantasia in C minor for piano, chorus, and orchestra) (1808)

Overtures
Opus 43: The Creatures of Prometheus, overture and ballet music (1801)
Opus 62: Coriolan Overture (1807)
Overtures composed for Beethoven's opera Fidelio, Op. 72:
Opus 72: Fidelio Overture (1814)
Opus 72a: Leonore Overture "No. 2" (1805)
Opus 72b: Leonore Overture "No. 3" (1806)
Opus 138: Leonore Overture "No. 1" (1807)
Opus 84: Egmont, overture and incidental music (1810)
Opus 91: Wellington's Victory ("Battle Symphony") (1813)
Opus 113: The Ruins of Athens (Die Ruinen von Athen), overture and incidental music (1811)
Opus 117: King Stephen (König Stephan), overture and incidental music (1811)
Opus 115: Zur Namensfeier (Feastday) Overture (1815)
Opus 124: Consecration of the House (Die Weihe des Hauses), overture (1822)

CHAMBER MUSIC

Trios
Piano trios
Opus 1: Three Piano Trios (1795)
Opus 11: Piano Trio [No. 4] in B-flat major ("Gassenhauer") (1797)
Opus 44: Variations on an original theme in E-flat major
Opus 70: Two Piano Trios (1808)
Opus 97: Piano Trio in B-flat major ("Archduke") (1811)
Opus 121a: Kakadu Variations, for Piano Trio (Variations on "Ich bin der Schneider Kakadu") (1803)

String trios
Opus 3: String Trio No. 1 in E-flat major (1794)
Opus 8: String Trio No. 2 ("Serenade") in D major (1797)
Opus 9: Three String Trios (1798)

String quartets
Early
Opus 18: Six String Quartets
No. 1: String Quartet No. 1 in F major (1799)
No. 2: String Quartet No. 2 in G major (1799)
No. 3: String Quartet No. 3 in D major (1798/99)
No. 4: String Quartet No. 4 in C minor (1799)
No. 5: String Quartet No. 5 in A major (1799)
No. 6: String Quartet No. 6 in B-flat major (1800)
Middle
Opus 59: Three String Quartets ("Rasumovsky") (1806)
Opus 74: String Quartet No. 10 in E-flat major ("Harp") (1809)
Opus 95: String Quartet No. 11 in F minor ("Serioso") (1810)
Late
Opus 127: String Quartet No. 12 in E-flat major (1823/24)
Opus 130: String Quartet No. 13 in B-flat major (1825)
Opus 131: String Quartet No. 14 in C-sharp minor (1826)
Opus 132: String Quartet No. 15 in A minor (1825)
Opus 133: Große Fuge in B-flat major – originally finale of Opus 130 (1826)

String quintets
Opus 4: String Quintet in E-flat major (1795)
Opus 29: String Quintet in C major (1801)
Opus 104: String Quintet in C minor (1817)
Opus 137: Fugue for String Quintet in D major (1817)

Chamber music with winds
Opus 11: Trio for Piano, Clarinet, and Cello in B-flat major ("Gassenhauer")
Opus 16: Quintet for piano and winds in E-flat major (1796)
Opus 20: Septet for clarinet, horn, bassoon, violin, viola, cello and contrabass in E-flat major (1799)
Opus 25: Serenade for flute, violin and viola in D major (1800–01)
Opus 38: Trio for Piano, Clarinet (or Violin), and Cello in E-flat major (1803)
Opus 71: Sextet for clarinets, horns, and bassoons in E-flat major (1796)
Opus 81b: Sextet for Horns and String Quartet
Opus 87: Trio for two oboes and English horn in C major (1795)
Opus 103: Octet for oboes, clarinets, horns, and bassoons in E-flat major (1792)
Opus 105: Six sets of variations for piano and flute (1819)
Opus 107: Ten sets of variations for piano and flute (1820)

Sonatas for Solo Instrument and Piano

Violin Sonatas
Opus 12: Three Violin Sonatas (1798)
Opus 23: Violin Sonata No. 4 in A minor (1801)
Opus 24: Violin Sonata No. 5 in F major ("Spring") (1801)
Opus 30: Three Violin Sonatas (1803)
Opus 47: Violin Sonata No. 9 in A major ("Kreutzer") (1803)
Opus 96: Violin Sonata No. 10 in G major ("The Cockcrow") (1812)

Cello sonatas
Opus 5: Two Cello Sonatas (1796)
Opus 69: Cello Sonata No. 3 in A major (1808)
Opus 102: Two Cello Sonatas (1815)

Horn sonatas
Opus 17: Horn Sonata in F major (1800)

SOLO PIANO MUSIC

Piano sonatas
Opus 2: Three Piano Sonatas (1795)
Opus 7: Piano Sonata No. 4 in E-flat major ("Grand Sonata") (1797)
Opus 10: Three Piano Sonatas (1798)
Opus 13: Piano Sonata No. 8 in C minor ("Pathétique") (1798)
Opus 14: Two Piano Sonatas (1799)
Opus 22: Piano Sonata No. 11 in B-flat major (1800)
Opus 26: Piano Sonata No. 12 in A-flat major ("Funeral March") (1801)
Opus 27: 'Sonata quasi una fantasia', Two Piano Sonatas (1801)
Opus 28: Piano Sonata No. 15 in D major ("Pastoral") (1801)
Opus 31: Three Piano Sonatas (1802)
Opus 49: Two Piano Sonatas (between 1795 and 1798)
Opus 53: Piano Sonata No. 21 in C major ("Waldstein") (1803)
Opus 54: Piano Sonata No. 22 in F major (1804)
Opus 57: Piano Sonata No. 23 in F minor ("Appassionata") (1805)
Opus 78: Piano Sonata No. 24 in F-sharp major ("À Thérèse") (1809)
Opus 79: Piano Sonata No. 25 in G major (1809)
Opus 81a: Piano Sonata No. 26 in E-flat major ("Les adieux/Das Lebewohl") (1810)
Opus 90: Piano Sonata No. 27 in E minor (1814)
Opus 101: Piano Sonata No. 28 in A major (1816)
Opus 106: Piano Sonata No. 29 in B-flat major ("Hammerklavier") (1819)
Opus 109: Piano Sonata No. 30 in E major (1820)
Opus 110: Piano Sonata No. 31 in A-flat major (1821)
Opus 111: Piano Sonata No. 32 in C minor (1822)

Variations
Opus 34: Six variations on a theme in F major (1802)
Opus 35: Fifteen variations and a fugue on an original theme in E-flat major ("Eroica Variations") (1802)
Opus 76: Six variations on an original theme (the Turkish March from The Ruins of Athens) in D major (1809)
Opus 120: Thirty-three variations on a waltz by Diabelli in C major ("Diabelli Variations") (1823)

VOCAL MUSIC
Opera
Opus 72: Leonore (1805), first version in three acts
Opus 72: Leonore (1806), second version in two acts
Opus 72: Fidelio (1814), final version in two acts
Choral
Opus 80: Choral Fantasy for solo piano, chorus, and orchestra (1808)
Opus 85: Christus am Ölberge (Christ on the Mount of Olives) – oratorio (1803)
Opus 86: Mass in C major (1807)
Opus 112: Meeresstille und glückliche Fahrt (Calm Sea and Prosperous Voyage), for chorus and orchestra (1815)
Opus 118: "Elegischer Gesang" for four voices and string quartet (1814)
Opus 123: Missa Solemnis in D major (1823)
Songs
Opus 46: "Adelaide" – song (1794–1795)
Opus 98: An die ferne Geliebte – song cycle (April 1816)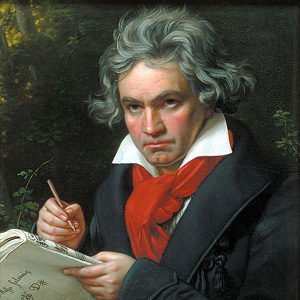 Share
Tweet
---
---
Last Updated: 2016-06-20 14:02:21