« Back to Composer Index
Georges Bizet
Info
10/25/1838
Paris, France
06/03/1875
Bougival, France
France
Romantic
Orchestral, Opera

---
Biography
His time at the conservatory ended when he won the Prix de Rome in 1857 and went to Italy where he continued his work and later developed a chronic throat infection. Bizet had a son with his parents' maid in 1862. In 1869 he married Genevieve Halevy. Their marriage was an unhappy one. They had a son who later committed suicide. In 1872 Bizet wrote Djamileh. It was met with little success, but with this work Bizet felt he had found his true calling. He began work on what would become his most famous opera, Carmen.
Carmen premiered in 1875, but was not received well by critics, who called the work obscene. Bizet became depressed and his health deteriorated rapidly. He died three weeks later of two heart attacks in Bougival on June 3, 1875. At his funeral, a moving performance of Carmen was performed. Carmen, once rejected by critics, is now praised by them worldwide. Carmen is one of the most produced operas in the world.
Born to musical parents, Bizet was considered a prodigy and entered the Paris Conservatory of Music at the age of nine. He played the piano and was taught by the virtuoso, Antoine-Francois Marmontel.When Bizet was about 17 he wrote the Symphony in C, which was considered the work of a genius.
---
Main Works
Opera:
Les Pecheurs de perles
Carmen
Djamileh
Don Procopio
La Jolie fille de Perth
Orchestral Music:
Symphony in C
Petite Suite
L'Arlesienne Suite No. 1
L'Arlesienne Suite No. 2
Piano duet:
Jeux d'enfants
Chants du Rhin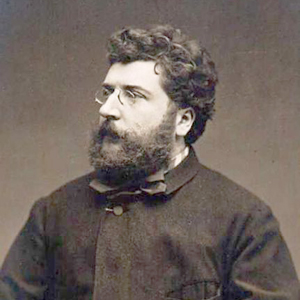 Share
Tweet
---
---
Last Updated: 2016-06-20 14:08:58