« Back to Composer Index
Antonin Leopold Dvořák
Info
09/08/1841
Nelahozeves, Czech Republic
05/01/1904
Prague, Czech Republic
Bohemia
Romantic
Orchestral, Chamber, Opera, Symphony, Concerto

---
Biography
Antonin Leopold Dvořák was born on September 8, 1841 in the Bohemian (Now Czech Republic) village of Nelahozeves. While he was young he grew up listening to local folk songs and had an obvious talent for music from very early on in his life. As a youngster, he was an apprentice butcher, but as he got older he got bored with his simple life. He moved to the city of Prague. From 1857-1859 Antonin studied at the Prague Organ School Of Music. Starting in 1873, Antonin decided that he would dedicate himself to teaching and composing music. His success continued when he won the Austrian State stipend three times, 1874, 1876-1877. This outstanding award grabbed the attention of Johannes Brahms, who helped Antonin get a publisher for his music.
Antonin's success did not stop within his own country. His fame spread through England and continued to the United States. In 1892 he was invited to the National Conservatory in New York City where he became the school's artistic director. During this time he wrote a number of his best-known works. The most beloved was his Symphony #9 in E minor, also known as From the New World. His other famous works include his seventh symphony, Slavonic Rhapsodies, his cello concerti, violin concerto, piano trios, and string quartets. In 1901, Dvořák wrote another famous piece, his opera Rusalka. This fairytale opera, unlike his other work, was regularly played outside his native land. Not long after writing this piece Antonin Dvořák died in Prague.
Antonin's music was known for its unique characteristics. His melodies were often fresh and uplifting, while the harmonies were often very intense. "His music was neither conservative nor radical," says Matt Boynick. The interesting fact about Dvořák was that he was not a pianist/composer. He had very few compositions that were written for the piano, but they still depicted his wonderful talent. "I like to think that quality held sway over quantity in his piano music," remarks Jeff Abbas. That is what most people believe about Dvořák to this day: his music was beautiful and powerful and he and his music will always be remembered as a great part of history.
---
Main Works
Orchestra:
Slavonic Rhapsodies, Op. 45 (1878)
Symphony No. 9 in E minor (From the New World), Op. 95 (1893)
The Water Goblin, Op. 107 (c. 1896)
The Noon Witch, Op. 108 (c. 1896)
The Golden Spinning Wheel, Op. 109 (c. 1897)
The Wood Dove, Op. 110 (c. 1897)
The Hero's Song, Op. 111 (c. 1897)
Chamber Music:
String Quintet No. 1 in A minor, Op.1 (c. 1861)
String Quintet No. 2 in G major, Op.77 (c. 1875)
String Quintet No. 3 in E-flat major "American", Op.97 (c. 1893)
Opera:
The Devil and Kate (1898-99)
Rusalka (1900)
Armida (1902-03)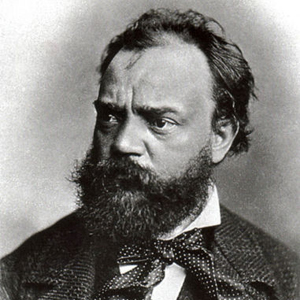 Share
Tweet
---
---
Last Updated: 2013-02-07 22:44:05