« Back to Composer Index
Henry Fillmore
Info
12/03/1881
Cincinnati, Ohio
12/07/1956
Miami, Florida
USA
20th Century
Wind Ensemble

---
Biography
James Henry Fillmore Jr. was eldest of 5 children and his father was a partner in the Fillmore Religious music publishing house. Fillmore was said to have had an outstanding singing voice and was often rewarded by his father with fifty-cents to sing in the church choir. He played a little pianoand was a natural with the flute, violin, and guitar. It was the slide trombone that most fascinated Fillmore. His father considered the trombone too evil for any righteous person to play, in fact, theinstrument was often associated with street corner musicians whom were known to drink alcohol. But Fillmore's mother believed that practicing trombone might help keep Henry out of mischief, and she secretly saved enough money to buy a second-hand instrument for her son. He was educated in Cincinnati public schools and graduated from a junior college in 1901 with a "Bachelor of Arts" degree. His composing began when he was 18. His first known publication is the march Higham, named after a line of brass instruments. He also attended the Cincinnati Conservatory of Music for a short time studying trombone with Charles Kohlman and composition with John Broekhoven.
He worked in his father's publishing business for a while, but left in 1905. They had an argument concerning the "evils" of band music and his displeasure with Henry's personal life. The disagreement centered on Fillmore's love for Mabel May Jones, an exotic show dancer. He proposed to her by mail and they were subsequently married in St. Louis. They both were hired by the Lemon Brothers Circus, starting his career as musician and bandmaster.
Fillmore settled his differences with his father and returned to music publishing in 1910. He needed to supplement his income and began to teach trombone and perform in private groups. From 1921 to 1926 he led the Syrian Temple Shrine Band and in 1927 Fillmore organized his own professional band. His band was the last in a long line of great professional bands in America. Sousa's band and Gilmore's band had already stopped performing when Fillmore started his band in Cincinnati.
Fillmore's band became very popular with his flamboyant style and entertaining manner. Often being refered to as the "Showman Supreme," he often turned directly around to the audience andconducted the band while interacting with the audience. He also became famous as the "Father of the Trombone Smear," writing fifteen songs over a period of 21 years featuring the trombone smear(trombone glissando). The trombone "smears" were ragtime compositions reflecting the minstrel show idiom of vaudeville. John Phillip Sousa and his band performed Lassus Trombone on many occasions, being his favorite smear.
During those years, Fillmore composed, arranged, and edited more band music than any othercomposer/ bandmaster in history with over 250 compositions (including 113 marches) and over 750 arrangements. He also spent free time publishing band instruction books that became standard learning material in the homes of thousands of young musicians. He published under eight names to prevent saturating the market with his own name. Aside from Henry Fillmore, he also used the names Harold Bennett, Al Hayes, Will Huff, Gus Beans, Ray Hall, Harry Hartley, and even the feminine name of Henrietta Moore.
Fillmore developed heart problems and, in 1938, moved to Miami, Florida for his health. He went to work for the University of Miami band, even after he decided to retire. He stayed active adjudicating musical competitions and guest conducting. His last composition was dedicated to the President of the University of Miami at the time, Jay F.W. Pearson. It was titled the Presidents March.
---
Main Works
Marches
The Circus Bee (1908)
Rolling Thunder (1916)
Mt. Healthy (1916) under the pseudonym Gus Beans
Men Of Ohio (1921)
Noble Men (1922)
Military Escort (1923) under the pseudonym Harold Bennett
American We (1929)
Klaxon (1930)
His Honor (1934)
The Footlifter (1935)
King Karl King (1945)
Trombone Rags
Miss Trombone (1908)
Teddy Trombone (1911)
Lassus Trombone (1915)
Pahson Trombone (1916)
Sally Trombone (1917)
Slim Trombone (1918)
Mose Trombone (1919)
Shoutin' Liza Trombone (1920)
Hot Trombone (1921)
Bones Trombone (1922)
Dusty Trombone (1923)
Bull Trombone (1924)
Lucky Trombone (1926)
Boss Trombone (1929)
Ham Trombone (1929)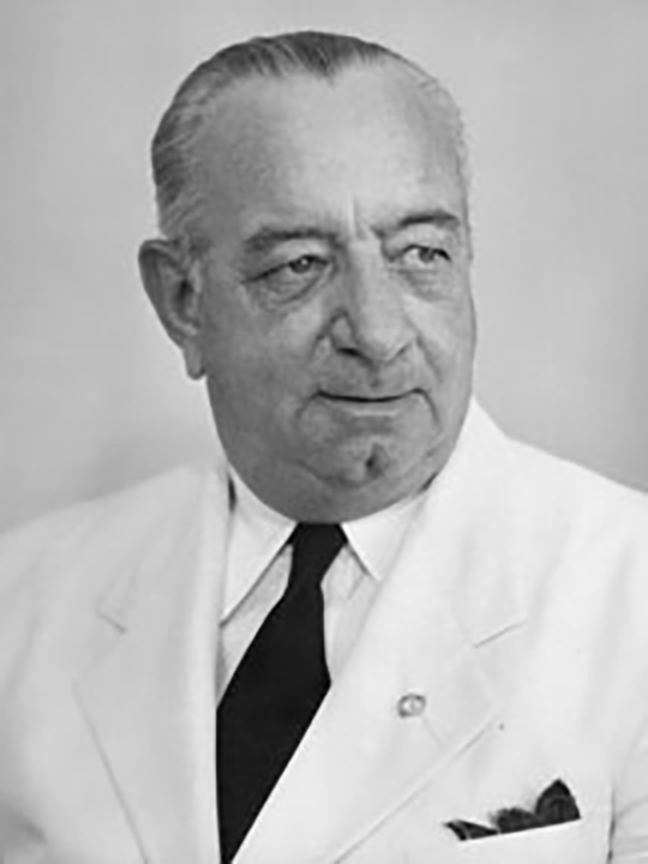 Share
Tweet
---
---
Last Updated: 2013-02-08 18:30:22