« Back to Composer Index
Edvard Hagerup Grieg
Info
06/15/1843
Bergen, Norway
09/04/1907
Bergen, Norway
Norway
Romantic
Orchestral

---
Biography
Edvard Hagerup Grieg began taking music lessons from his mother at the age of six. As a young child, he would purposely get wet on the way to school so he would be sent home to change. Since he lived far from the school, he was not able to get back to school that day and spent this off-time surrounding himself with music.
In 1853, he began studying the piano and composition at the Leipzig Conservatoire, where he was miserable. He came back to Norway in 1862 and went to Copenhagen, Denmark the next year to study and start a career as a pianist. There he met his future wife, Nina Hagerup. During his stay in Denmark, he met Rikard Nordraak, who sparked his interest in the Northern folk tunes of Norway.
From 1866 to 1876, he lived in Oslo (then called Kristiania). There he taught music and became a conductor. Grieg wrote his first set of miniature pieces for the piano, The Lyric Pieces in 1867. Each consisted of eight short movements. He wrote nine other collections under the same title in his life. He also married Nina in 1867. She was also musically oriented as she was a well- known soprano and a great interpreter of Grieg's songs. In 1868 he completed one of his best known works, Piano Concerto in A minor.
In 1876, Grieg met dramatist Hendrik Ibsen, who asked him to provide music for his play. Grieg met that request, producing Peer Gynt, and after the first performance in 1876, Grieg earned instant fame. His next well known piece came in 1884, when Grieg wrote and produced Holberg Suite. This commemorated the bicentenary of the birth of Ludvig Holberg, a Norwegian philosopher and playwright. This piece was a five movement piece for the piano written like an 18th century dance suite.
In 1885, Grieg built a home where he stayed for the remainder of his life. Although his health was slowly deteriorating, he still toured and performed in much of Europe and Scandinavia. He composed works in the spring and summer, then spent the fall and winter on tours. Throughout his lifetime a few romantic composers like German Robert Schumann and Frenchman Frédéric Chopinhad much influence on Grieg. He released other pieces during this latter half of his life, including Lyric Pieces V and X in 1891 and 1901 respectively, Nineteen Norwegian folk songs, op.66 in 1897, The Mountain Maid, op.67 in 1898, and Four Psalms, no.74 in 1907. When suddenly becoming ill, Grieg died on September 4, 1907 in a Bergen, Norway hospital. He was buried near his home. Ultimately, Edvard Hagerup Grieg was a great Norwegian composer who stuck to his own style and kept his distance from larger forms of musical expression like symphonies and operas, he stayed active throughout his lifetime up until his death.
---
Main Works
Orchestral:
Piano Concerto in A minor (1868)
Peer Gynt (1874-1875, 1891)
Heart Wounds (1873-1880)
The Last Spring (1873-1880)
Olaf Trygvason (1873, 1888-1889
Lyric Pieces (1866, 1883, 1885, 1886, 1891, 1893, 1895, 1896, 1898, 1901)
(Collections of short piano works, each with eight short movments)
Holberg Suit (1884-1885)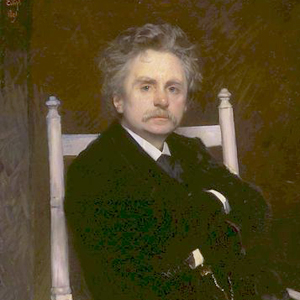 Share
Tweet
---
---
Last Updated: 2013-02-08 20:24:24