« Back to Composer Index
George Frederic Handel
Info
02/23/1685
Halle, Germany
04/14/1759
London, England
Germany
Baroque
Orchestral, Chamber, Opera, Piano

---
Biography
George Frederic Handel was born on February 23, 1685 in Halle, Germany. His father was a barber surgeon that discouraged Handel's music interest while his mother supported him. Handel tried the local university unsuccessfully and dropped out after one year. He then left home and went to Hamburg. There he conducted at opera houses and quickly became the second violinist in the orchestra. Exposed to the Italian operatic style, Handel learned all that he could and applied it to his first opera, Almira, which he wrote at age 20. After his brief stay in Hamburg, Handel moved on to Italy and stayed there for the next few years composing operas and oratorios. When Handel left Italy he carried with him the reputation of a composer.
Handel's next move was to England, where he eventually settled. There he was appointed one of the musical directors of the Royal Academy of Music. In England, Handel wrote many English operas including Julius Caesar. After the success of John Gay's The Beggar's Opera that closed the Royal Academy, Handel focused his attention on writing oratorios again. His Israel in Egypt, Messiah, Judas Maccabaeus, and Jephtha were some of his best works that were well received in that time.
Eventually Handel suffered from cataracts that lead to blindness and suffered from a series of paralytic strokes. Handel later died in London, England on April 14, 1759 and was buried in Westminster Abbey. One London papers wrote: "Last night about Eight O' clock the remains of the late great Mr. Handel were deposited...in Westminster Abbey... There was almost the greatest Concourse of People of all Ranks ever seen upon such, or indeed upon any other Occasion." Handel was a truly well known and liked composer of his time.
Handel wrote his music within the Baroque era. He used diatonic harmony with expressive melodies and tone color for atmosphere and dramatic expression. His operas were based on heroes and adventurers and his oratorios were choral dramas using the Old Testament. Handel also produced instrumental works such as his Water Music and Music for the Royal Fireworks.
---
Main Works
Operas:
Almira (1705)
Rinaldo (1711)
Giulio Cesare (1724)
Rodelinda (1725)
Atalanta (1736)
Berenice (1737)
Serse (1738)
Oratorio:
Esther (1718 - 1732)
Saul (1739)
Israel in Egypt (1739)
L'Allegro (1740)
Messiah (1742)
Samson (1743)
Judas Maccabaeus (1747)
Joshusa (1748)
Susanna (1749)
Odes:
Alexander's Feast (1736)
Ode for St. Cecilia's Day (1739)
Chamber Music:
Various sonatas for solo instruments and continuo
Trio sonatas
Orchestral Music:
18 Concerto Grossi
Several Overtures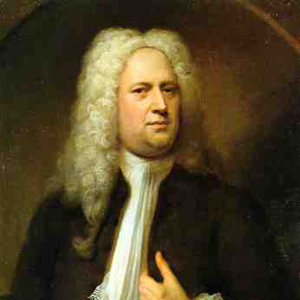 Share
Tweet
---
---
Last Updated: 2016-06-24 01:16:52