« Back to Composer Index
Bernart de Ventadorn
Info
c. 1135
-
c. 1195
-
France
Medieval


---
Biography
Bernart de Ventadorn was a romantic figure in the middle ages, a troubadour, of the 12th century in France. He wrote the poetry but also composed the melodies. His music was extremely well known during the middle ages and he is remembered for his mastery as well as popularisation of the trobar leu style, and for his prolific cançons, which helped define the genre and establish the "classical" form of courtly love poetry.
Although little is known about his life, Bernart is believed to be the son of servants (possibly bakers) in Limousin in Provence at the Castle Ventadorn in the south of France. From evidence given in Bernart's early poem Lo temps vai e ven e vire, he most likely learned the art of singing and writing from his protector, viscount Eble III of Ventadorn. He composed his first poems to his patron's wife, Marguerite de Turenne. It is probable that he served the court of Eleanor of Aquitaine in Normandy for many years, and possibly also that of Count Raimon V of Toulouse.
Bernart's poetry celebrated nature and love, and concerned itself often with the unrequited love of a poor young man for one of the fine noble ladies. His work is characterized by its use of traditional themes that were made famous by the French troubadours of the twelfth century. It has a melancholy tone, and makes use of subtle imagery and symbolism to describe the plight of a poor man in love with a woman far above his station.
Bernart is unique among secular composers of the twelfth century in the amount of music which has survived: of his forty-five surviving poems, eighteen have music intact, an unusual circumstance for a troubadour composer. Many today believe the eight-stanza song "Can vei la lauzeta mover" (also spelled "Quan vei la lauzeta mover") to be both the best-preserved and very possibly the most influential of all medieval songs, and certainly of all songs written in the langue d'oc, or Provençal, language.
Bernart de Ventadorn - Also - de Ventedorn, de Ventadour
---
Main Works
A! Tantas bonas chansos
Ab joi moi lo vers e. l comens
(Ab joi et ab joven m'apais Condesa de Dia)
Amors, e que. us es vejaire?
Ara no vei luzir soleth
Be'm degra de chantar
Bel m'es can eu vei la brolha
Ben m'an perdut
Can l'erba fresch', monophonic canso (1190)
Can par la flors jostal vert folh
Conortz, era sai ben
Era-m cosselhatz, senhor
La Doussa Votz Ai Auzida
Lancan vei la folha
Non es meravelha s'eu chan
Pois Preyatz Me, Senhor
Pour oublier mon malheur
Quan (Can) vei la lauzeta mover, motet (1150)
Tant ai mo cor ple de joya
Vida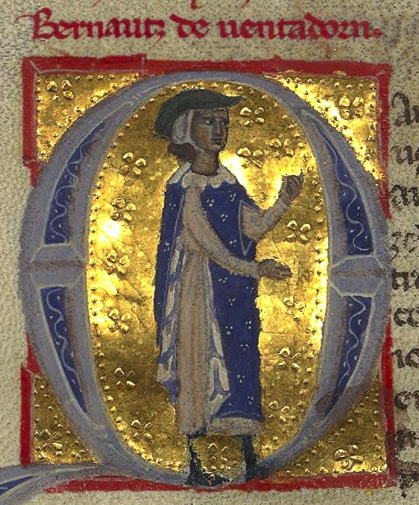 Share
Tweet
---
---
Last Updated: 2016-07-08 19:55:00