« Back to Composer Index
Franz Ritter von Liszt
Info
10/22/1811
Raiding, Austria
07/31/1886
Bayreuth, Germany
Hungary
Romantic


---
Biography
Franz Liszt, born October 22, 1811, an Armenian in Doborián, Hungary, was one of the most impressive, egocentric, and generous figure in all of music history. Liszt's father, Adam, a fine, amateur musician and clerk on the estates of the Esterházy family (Haydn's patrons) discovers his son's talent at age six. Within three years, Liszt is giving public concerts. His talent so impresses the famous teacher Carl Czerny in Vienna, that he gaves Liszt lessons in composition each evening free of charge.
Liszt father decides to take his son on a concert tour to Paris. From there Liszt goes to London in 1824. Further English tours in 1825 and 1827 also showcase Liszt as a composer. In 1825 in Paris, his comic opera, Don Sanche is performed four times.
Adam Listz died in 1826, leaving Franz to live with his mother in Paris. During the next several years he turned from performing, choosing to give lessons in piano and composition throughout Paris. A failed love affair with one of his pupils led to heartbreak and disappointment, which drove him from his music. He declared himself a revolutionary, then turned to religion. He finally devoted himself to the ardent literary study of art and religion. These years of study would greatly influence his later works.
Soon after 1830, Liszt became acquainted with and strongly influenced by Chopin and Berloiz who brought him from political, religious and literary diversions back to music and introduced him to Romanticism. A third great influence of this period was the violin virtuoso Paganini. So struck by Paganini's violin performances, Liszt was determined to return to performing in order to become the "Paganini of the piano". Thus he dedicated his life to the study of piano and the mastery of his technique.
By 1833 Liszt not only returned to the stage and an enthusiastic public but he also began a grande passion with the Countess d'Agoult. Although married with three children, the Countess chose to abandon her family and start fresh with Liszt in Geneva. They had three children including their oldest, Cosina, who would eventually inspire and marry Richard Wagner.
After two years away from Paris, Liszt returned to the concert stage. His absence had allowed for another, Thalberg, to take the spotlight. He retook his place as not only the favor of the Paris set but, his incomparable sense of style, including a flare for the dramatic, heighted the effect of his playing throughout all of Europe.
As a modern piano virtuoso, he originated the piano recital in Rome in 1893 as the titled "musical soliloquy". The term recital was used for the first time in London on May 1, 1840. He also was the first to establish the tradition of playing in a profile position.
As Liszt fame increased so did his flare for the dramatic, his colossal vanity, and his indulgence in passing liaisons which led to his separation from Countess d'Agoult.
In 1848, Liszt was appointed Kapellmeister to the grand Duke of Weimar. This position allowed him to devote efforts to bringing recognition to unknown composers and neglected works. He featured these works with a humble and unprejudiced courage, even featuring works by composers he disliked. He resigned from his musical duties in 1859 due to creative differences involving his desire to produce Wagner's Ring Cycle, and over increasing resentment toward new the music he chose to present.
He left Weimar in 1861 and found himself again drawn to religion and entered the Third Order of Saint Francis of Assisi. By 1896 he was dividing his year between religious duties in Rome, Budapest, where he founds the Royal Hungarian Musical Academy (now the Liszt Academy), and activities as a piano teacher in Germany where pupils from all over the world came to study with Liszt, who, never asked for a fee.
When Wagner broke up his daughter's marriage, Liszt could not forgive him. Nevertheless, Liszt continued his tireless efforts on behalf of Wagner's music. He also takes occasional trips to music festivals and to Bayreuth, where he is reconciled with his daughter and Wagner. In 1888, encouraged by Cosima to attend the Bayreuth Festival, he succumbs to pneumonia a week after the festival.
As a composer and a virtuoso, Liszt both wooed the public but also humbly served the arts. His true achievement lies in the creation of the tone poem, or symphonic poem – the transmutation into musical terms of a poem, story, painting, or idea. He established the form of the rhapsody and made use of recurring themes in musical composition and was a striking innovator in harmonic writing and instrumentation.
Liszt is concidered to be the creator of orchestral pianoforte-playing, he coined the term 'recital' and first applied the term Symphonic poem (also known as Tone poem).
---
Main Works
OPERA
Don Sanche , ou Le château del'amour (1825)
PIANO
Piano Concerto No. 1 (1830-1849)
Malédiction (1833)
Album d'un voyageur (1835-1838)
Hexameron (1837)
Grand gallop chromatique (1838)
Three Concert Etudes (1845-49)
Etude No. 1, Il lamento
Etude No. 2, La leggierezza
Etude No. 3, Un sopiro
Hungarian Rhapsody No. 2 (1849)
Totentanz (1849)
Liebesträum No. 3 (1850)
Grandes etudes de Paganini (1851)
Etudes d'execution transcendante (1852)
Sonata in B minor (1854)
Mephisto Waltz No. 1, Der Tanz in der Dorfschenke (1859-62)
Mephisto Waltz No. 2 (1880-81)
Consolation No. 3 (1882)
Mephisto Waltz No. 3 (1883)
SACRED CHORAL WORKS
Christus (1855-1867)
Slavimo Slavno Salvini! (1863, 1866)
Salve Regina (1885)
ORCHESTRAL
Poéme symphonique No. 1, Ce qu'on entend sur la montagne (1848-1849, 1850, 1854)
Poéme symphonique No. 2, Tasso, Lamento, e Trionfo (1849, 1850-51, 1854)
Poéme symphonique No. 3, Les preludes (1848)
Poéme symphonique No. 4, Orpheus (1853-1854)
Poéme symphonique No. 5, Prometheus (1850, 1855
Poéme symphonique No. 6, Mazeppa (1851, 1854)
Poéme symphonique No. 7, Festklä (1853)
Poéme symphonique No. 8, Heroïde funébre (1854)
Eine Faust-Sinfonie (1854, 1891)
Poéme symphonique No. 9, Hungaria (1854)
Eine Sinfonie nach Dantes Divina Commedia (1855-1856)
Poéme symphonique No. 10, Hamlet (1856)
Poéme symphonique No. 11, Hunnenschlacht (1856-1857)
Poéme symphonique No. 12, Die Ideale (1857)
Dante Symphony (1881 – 1882)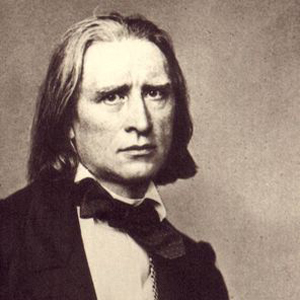 Share
Tweet
---
---
Last Updated: 2013-02-28 23:53:47