xylophone
[English]
A percussion instrument consisting of a row of chromatically tuned wooden bars, arranged in the manner of a piano keyboard. The bars are supported by a wooden frame over resonator tubes and they are sounded by being struck with mallets. Currently, the standard xylophone has a range of three-and-a-half octaves (F3 to C7). Commercial sizes can have as few as three octaves and as many as five octaves. The xylophone sounds one octaves higher than the written note.
---
Example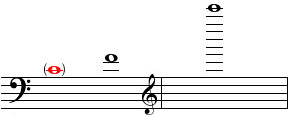 Written Range

Sound an octave higher
Camille Saint-Saëns: Le carnaval des animaux,
"Fossiles"
Aram Khatchaturian: Gayne Suite No. 1,
"Sabre Dance"
---
See Also
[Abbreviation]
Xyl.
[Abbreviation]
Xil.
[German]
Xylophon
(n)
[Italian]
xilofono
(m)
[Spanish]
xilófono
(m)
Share
Tweet
---
Last Updated: 2016-04-29 22:15:56