tonette
CLASSIFICATION: Aerophone 
HISTORY:
This
instrument
was created in 1938 and used in American elementary
music
education as a pre-band instrument. This allowed young children to play a simple instrument and learn
musical
notation
. It also allowed the students not only to play simple melodies, either alone or as a group, it allowed groups to
perform
simple harmonies along
with the
melodies and begin to experience performing as an
ensemble
. The Tonette has largely been superceeded, through the efforts of Music Educators, by the
much
more
musically accurate
recorder
family
of instruments. It is also known as a
song flute
. Although this instrument is considered a
toy
by most, (or at best a training instrument) it was featured in Peter Schickele's Gross
Concerto
under
his
pen name of P. D. Q. Bach. 
PHYSICAL DESCRIPTION:
A
small
black plastic whistle-type instrument that is end-blown. It has seven finger holes on the front of the instrument and a
thumb hole
on the back. The small number of finger holes
with
a limited
range
and the fact that is is easy to achieve a good sound makes this instrument ideal for young children. 
SOUND PROPERTIES:
The Tonette has a
very
pleasant sound, not unlike a recorder or
flute
.
Overblowing
is possible to extend the range,
but
that sound is not entirely pleasing when performed by a novice and somewhat difficult to control. 
---
Example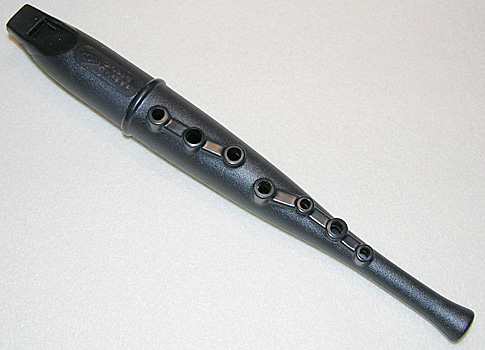 ---
See Also
[English]
song flute
---
Share
Tweet
---
Last Updated: 2013-05-02 19:44:18