tambourine
[English]
A percussion instrument consisting of a shallow wooden ring across which often is stretched a membrane. In the wooden ring are suspended several metal disks which jingle when the instrument is struck.
---
Example
Benjamin Britten: Young Persons Guide to the Orchestra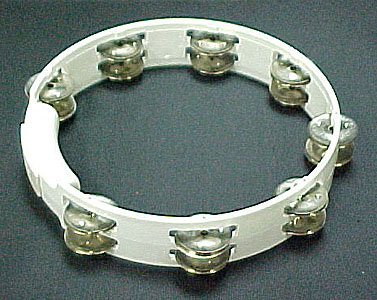 Ottorino Respighi: La boutique fantasque (on themes of Rossini),
"Tarantella"
Reinhold Glière: The Red Poppy,
"Russian Sailor's Dance"
Camille Saint-Säens: Samson and Delilah,
"Bacchanale"
Traditional Spanish villancico:
Ríu, ríu, chíu
---
Share
Tweet
---
Last Updated: 2016-05-06 21:51:20