triangle
[English]
A three-sided (triangular shaped) percussion instrument made of a bent metal bar which is sounded by being struck with a steel wand (commonly known as a beater) and produces a high sound of indeterminable pitch.
---
Example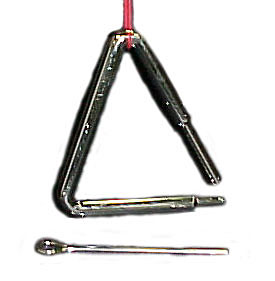 Dmitri Shostakovich: Ballet Suite No. 1,
"Music Box Waltz"
Gustav Holst: The Planets, Op. 32,
"Jupiter, The Bringer of Jollity"
Nikolai Rimsky-Korsakov: Capriccio espagnol, Op. 34,
"Fandango asturiano"
Richard Strauss:
"
Don Juan"
, Op. 20
---
Share
Tweet
---
Last Updated: 2016-05-10 18:57:45