arpeggio
Ar-PED-ji-oe
[Italian]
Playing the notes of a chord consecutively (harp style). A broken chord in which the individual notes are sounded one after the other instead of simultaneously.
---
Example
Giuseppe Domenico

Scarlatti: Sonata in E major, K. 20, "Capriccio"
Johann Sebastian Bach:
The Well-Tempered Clavier, Book I, Prelude and Fugue No. 1 i
n C major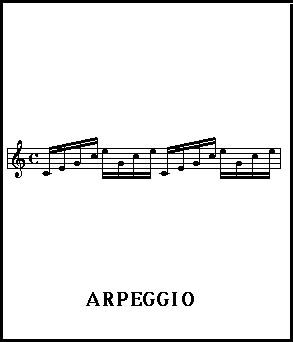 François

Couperin: Second livre de clavecin, "Les barricades misterieuses"
---
See Also
[Abbreviation]
arpio.
[Abbreviation]
Arp.
[English]
broken chord
Share
Tweet
---
Last Updated: 2016-04-29 19:34:35