sheng
[Chinese]
HISTORY:
The
sheng
has a history of thousands of years and is manufacture and use was reported in ancient Chinese history. Already popular among the Chinese people in the Yin Dynasty (1401-1121
BCE
), the
sheng
is still in common use today. The
sheng
is the
instrument
that inspired the invention of the
concertina
,
accordion
and
harmonica
, and uses the same technology of metal
reeds
that
vibrate
as air passes through them. The
sheng
is also known as a
Chinese mouth organ
or
Chinese panpipe
.
PHYSICAL DESCRIPTION:
The original version of
sheng
is made up of a group of bamboo tubes of different lengths that are tied together with a string. Later improvements added
reeds
to each tube. The early
sheng
had thirteen to seventeen bamboo tubes. In 1006
CE
, the Bei Song Dynasty, 19-tubes
sheng
was used. In the Ming and Ching Dynasty, popular
sheng
were 17-tubes, 14-tubes, 13 tubes and 10-tubes. In modern China, further improvements were made, and the 21-tubes, 24-tubes, 26-tubes, 27-tubes, 32-tubes, 36 tubes, and 51-tubes
sheng
were produced. Such arrangements allow
sheng
to play complicated
chords
and
music
.
SOUND PROPERTIES:
By virtue of its construction, this is the only Chinese
musical
instrument
capable of playing multiple
pitches
simultaneously. 
---
Example

Sheng Range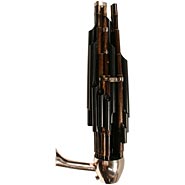 Photos courtesy of Lark In The Morning
---
Share
Tweet
---
Last Updated: 2013-02-14 19:30:58